Southwest Communities Chamber Fall Dinner
October 22, 2021 @ 5:00 pm

-

8:30 pm
Autumn Moon Celebration and Fall Harvest Dinner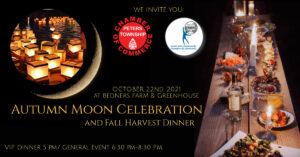 Autumn Moon Celebration
and Fall Harvest Dinner
Friday, October 22nd, 2021 at 5:00 p.m./6:30 p.m.
Join us for the Autumn Moon Celebration, an exclusive event bringing together some of the top chamber's in the region and their networkers on Friday, October 22nd, 2021. The event will offer a VIP Fall Harvest Dinner followed by a lakeside meet-and-greet at Bedner's Farm and Greenhouse in Cecil, PA. Our VIP dinner will feature a live presentation by chef (TBA) with an autumn harvest dinner paired with wine from Passiflora Springs Winery.
After dinner, guests can take in the bucolic autumn scenery, sit by a blazing bonfire, try samples from Passiflora Springs Winery, spirits from Quantam spirits and beer from the Pittsburgh Bottleshop Cafe. Cigars will also be available for purchase. Later in the evening guests will each have the opportunity to release a water lantern into the lake with their well wishes for the coming year.
Sponsorships and Vendor Tables Available
Autumn Moon Celebration and Fall Harvest Dinner Pricing
Fall Harvest VIP Dinner*:
Single Ticket:
sale 95.00 thru October 11th, 2021/ $125.00 after October 11th, 2021
Duo Ticket: sale $185.00 thru October 11th, 2021/ $200.00 after October 11th, 2021
*Seating is Limited
Autumn Moon Celebration General Admission:
Single Ticket: $35.00/ Duo Ticket: $60.00
Year-Long VIP Member:
General Admission Only: Free
Post-Graduate Member:
General Admission Only: Free
Register
https://southwestcommunitieschamber.org/register/autumn-moon-celebration-and-fall-harvest-dinner/